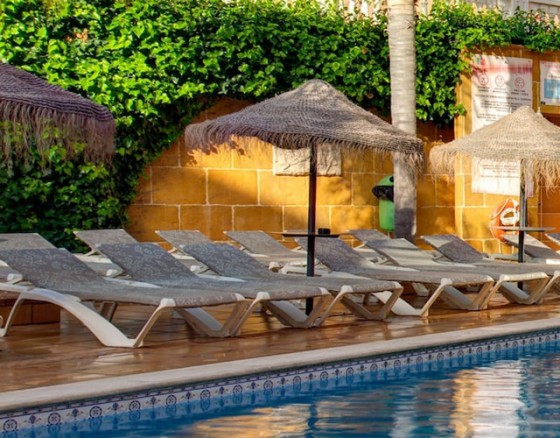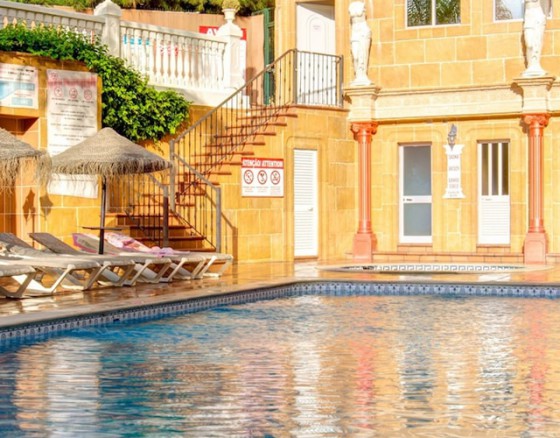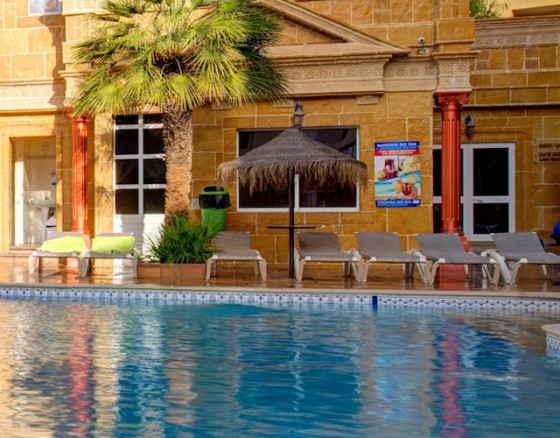 Choromar Apartments 3*
Located in Albufeira around 1 km from the top of the famous Albufeira Strip (15 mins walk), this resort has a spa, 5 swimming pools and an onsite mini market. A free shuttle bus to Oura Beach and Albufeira's Old Town is available. All the apartments are self catering and well appointed, the resort is 3 star and is group, stag and hen friendly. There is a pool bar and restaurant onsite so if your looking to chill by the pool during the days and party hard at night this is an ideal location.
The hotel has six different types of rooms, studio (sleeps 2), standard 1 bed (sleeps 2), pool view 1 bed (sleeps 4), two bed (sleeps 6), 3 bed (sleeps 8), we will give you the low down on how they are equiped.
Studio (sleeps 2)
This cozy hotel room style apartment has a living/sleeping area that can either have a double or 2 single beds with a bathroom and a full appointed kitchen that includes, toaster, microwave and fridge. The apartment also includes an alarm clock, safety deposit box (see reception for access), telephone, as well as a tea and coffee set so you can make a cuppa in the morning. There is a seperate bathroom with shower, bath, toliet and mirror plus electrical points (remember your European adapter) for hair dryers and razors etc (not supplied)
One Bed Standard
This more spacious apartment is set uo in the same way as the studio, with the added extra of a seperate bedroom and living area. The bedroom is fitted with 2 single beds, the kitchen and bathroom are the same as the studio allbeit slightly bigger. So if your looking for a little more privacy, but dont need to spend the extra money on a pool view, this is our reccommended room as lets be honest you will only be sleeping there during your weekend and probably not very much either.
One Bed Pool View
Like it says in the title this is exactly the same as the standard one bed and appointed in exactly the same way but with a cool pool view terrace where you can relax and watch the action.
Share Choromar Apartments 3* with your friends: