2+ Amazing Stag Do Packages
Choosing a stag party destination is one thing, deciding what goes on during the weekend is another! If you have been given the task of providing the entertainment for your upcoming stag holiday we can let you into a secret that will leave you relaxed and confident and above all will make you look the dogs nuts in front of all you boys, what is this secret you ask? Leave the whole thing to us! It's that simple we have been organising stag weekends for over 10 years all across Portugal and Spain and we have packages specifically designed to put you in the best venues and at the best events Portugal has to offer and best of all by booking a package, you get a discount, what could be better?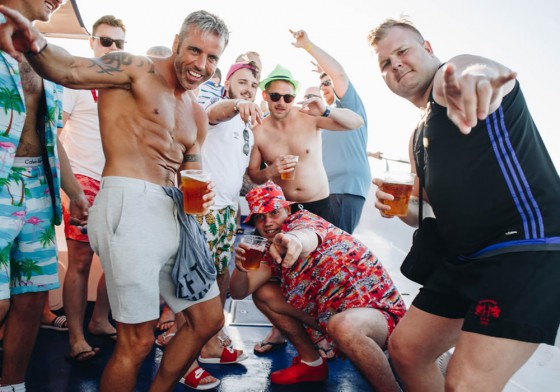 Bars & Boats
Bars & Boats
Albufeira, Algarve
Full Metal Jacket
Full Metal Jacket
Albufeira, Algarve
Are you going on a
Stag Weekend?

visit our shop

Costumes, fancy dress, funny gifts, engagement gifts, party gifts, rude gifts, jokes, pranks and much more!
Stag Do Package Deals
The idea of a stag holiday package is simple, we bundle together the best activities and events that are on during the week or weekend that you're in Portugal, we then take off a percentage because your booking multiple activities, issue a simple itinerary with times, dates and locations of each of your events, transfers or hotel depending on the package you have chosen.
Each package is designed so that you have plenty of time between events, your hotel is within easy travelling distance and your obviously close to all the bars, clubs and restaurants in whatever destination you have decided on.
Stag Weekends In Albufeira
Bar Crawls & Boat Parties, Strip and Nightclub Entry, Insane Nightlife, Beach & Pool Parties.
Find Out More
Stag Holidays To Lisbon
Exclusive Nightlife, Rooftop Sky Bars, Capital City Vibe, Incredible Food, River Tagus Boat Trips.
Find Out More
Stag Parties Around Porto
Douro Wine Tasting, Artisan Food, Coolest Nightlife, Trendy Bars, Hipster vibe & Portugal Best Kept Secret.
Find Out More
Stag Do's From Benalmadena
Beach Parties & Boat Parties, Marbella Club Scene, Puerto Banus Nightlife, Famous from UK TV Shows.
Find Out More Popular destinations and packages
Like all destinations around the world, Portugal and Spain have their favourite combinations here are the best of the best stag weekend package combinations that are being booked by other groups right now.
Albufeira Boats & Bars This package outsells all the others, not because it's better than any other destination but because Albufeira is stag central in Portugal and the bar crawl and boat party are the most popular events on our calendar.
Vilamoura Boats & Golf This package is another top seller, enjoy the upmarket resort of Vilamoura, play a round of golf at any of the Vilamoura Golf Courses plus get to hang with bikini-clad girls on the Boat Party too, perfect!